Internal Medicine | 36 Months | Accepts 20 Residents a Year
The Internal Medicine residency offers a high-quality academic program complemented by a uniquely supportive learning environment. Faculty members are easily accessible to trainees and faculty mentors are available for support and career guidance. Outside electives provide curricular flexibility for residents interested in broadening their medical experiences.
Graduates can choose to pursue careers in primary care internal medicine or to continue with fellowship training in one of the medical subspecialties. The faculty provides guidance for both job placement and the fellowship application process.
CURRICULUM:
The academic schedule is created monthly by the program director and academic chief resident.  We follow the American College of Physicians (ACP) curriculum to provide a comprehensive and high-yield educational experience based on a proven system. We complete the curriculum each year of residency to ensure that by the time our residents graduate they are well prepared to pass the American Board of Internal Medicine (ABIM) certification examination.
Our academic schedule includes Morning Report from 8 - 9 am Monday - Friday and Afternoon Lectures from 1- 2 pm Monday-Thursday with occasional Friday lectures.
We also have monthly Journal Clubs, Morbidity & Mortality conference, tumor board, and other miscellaneous lectures.
All residents are scheduled for one half-day session per week which is coordinated by Dr. Steven Fields, assistant program director.
Our program conveniently utilizes a night float system which is an overnight rotation that covers admitted inpatients and admits new medical patients overnight, after the day teams go home.
Internal Medicine Residency 2021-2022 Block Schedule
Meet the Faculty:
Anais Cortes, M.D.
Program Director, Internal Medicine
Anais.Cortes@steward.org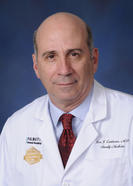 Dr. Jose Contreras MD
Associate Program Director, Internal Medicine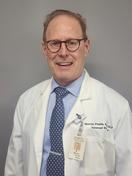 Dr. Steven Fields MD
Associate Program Director, Internal Medicine
Dr. Jose Sanchez MD
Faculty, Internal Medicine
Dr. Jose Paz DO
Faculty, Internal Medicine
Dr. Shadi Tarazi MD
Faculty, Internal Medicine
Internal Medicine Program Coordinators:
Gina Lancia
gina.lancia@steward.org
(305) 823-5000 Ext. 7780
Marie Filias
marie.filias@steward.org
(305) 823-5000 Ext. 7764
Danays Hernandez
danays.hernandez@steward.org
Meet the Residents: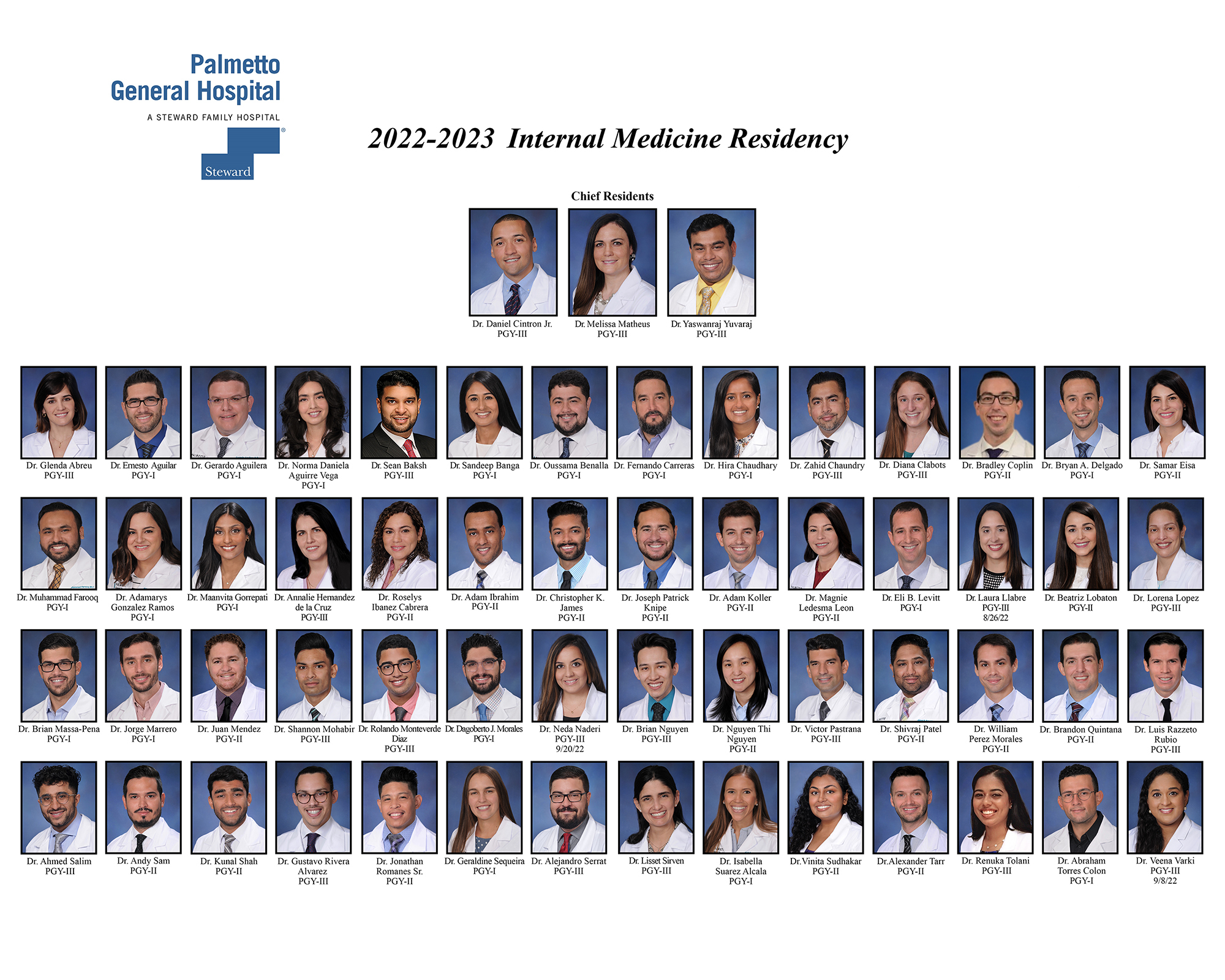 Benefits:
Salary: Competitive regional salary that is reviewed annually by the residents and faculty.
Medical Insurance: Palmetto General Hospital offers several Blue Cross Blue Shield of MA Health Plan options for medical insurance
Dental Insurance: Ameritas
Professional Liability Insurance: Malpractice insurance is provided for all trainees
Meals: The hospital provides a daily meal stipend for all residents and fellows.
Educational Stipend: The hospital offers an educational stipend to help defray the cost of clinically relevant books, computer programs, and travel. The cost of the USMLE and COMLEX exams are covered in full irrespective of the allotted educational stipend.
Applying:
How do I apply?
Palmetto General Hospital participates in the Electronic Residency Application System (ERAS). Our requirements align with that of the ERAS requirements. There are no supplementary application requirements.
How many PGY1 positions are available?
There are 20 positions for each incoming PGY-1 class.
How are applicants selected for an interview?
The Selection Committee carefully reviews each application using a standardized selection criteria. Interviews are only granted for applicants who have a complete application at the time of submission. Elective rotations are available at Palmetto General Hospital, but are not required to be granted an interview.
How does the program ensure it is diversity?
The programs, in partnership with their Sponsoring Institution, must engage in practices that focus on mission-driven, ongoing, systematic recruitment and retention of a diverse and inclusive workforce of residents/fellows. Some of the strategies that we have been utilizing are a website that reflects each program's diversity and inclusion efforts, implement a holistic approach to interviews and incorporate structured interviews ensuring all questions are related to the position, asked similarly of all applicants, and that they are using rating tools in the same manner. Programs are also required to teach interviewers about common biases and interviewer mistakes, and equip them with skills to identify and overcome such biases.
Our program greatly values diversity and implements a holistic approach to our selection process and encourage applicants from all backgrounds to apply. We consider each and every candidate that submits an application. We have a strictly enforced no-discrimination policy.
Do you offer visiting rotations?
We encourage visiting student rotations. For more information in regards to scheduling a visting rotation, please email Gloria Montecelo at Gloria.Montecelo@steward.org.
How are applicants notified about an interview?
Once an applicant is selected for an interview, applicants will receive an email with the available interview dates to choose.
When are interviews held?
Interviews are held between October and February. The interview day begins at 8:30
Do you accept IMGs?
Yes, we have a tradition of accepting graduates from any accredited medical school.
Do you accept DOs?
Yes. We have residents and faculty who have graduated from Osteopathic medical schools
Do you have a cut-off limit for USMLE scores?
No. An applicant should have passed both parts I and II of the USMLE/COMLEX.
Is there a limit to years since graduation?
We strongly prefer applicants who have graduated within the past five years.